Books - Stitch Head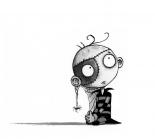 Something big is about to happen to something small...

The much-loved series from the monstrous - yet quite award-winning - minds of Guy Bass and Pete Williamson.
In the maze-like dungeons of Castle Grotteskew, the frightfully insane Professor Erasmus conducts his bizarre experiments on living things. His very first creation has been long forgotten - a small, almost-human creature, known only as Stitch Head...

Stitch Head - 1 August 2011

Stitch Head and the Pirate's Eye - 1 April 2012

Stitch Head and the Ghost of Grotteskew - 1 September 2012

Stitch Head: The Spider's Lair - 3 June 2013

The Beast of Grubbers Nubbin - 1 June 2015

The Monster Hunter - 11 February 2016

From Stripes Publishing.