Books - The Art Of Stitch Head 14th-26th February 2017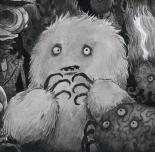 Pete Williamson's
The Art Of Stitch Head
exhibition was held at the Trinity
Theatre
, Church Road, Royal
Tunbridge
Wells between
14th
and
26th
February 2017, to great acclaim from both children and adults.
It featured many of the original 'strange and beautiful' illustrations from the six much-loved Stitch Head books, written by Guy Bass, and also several art pieces created just for the exhibition.
This unique exhibition also featured two (due to popular demand) of Guy and Pete's hilarious author events where Guy told the story behind the creation of Stitch Head, and Pete captured on paper the mad monster-making ideas of the inspired young audience.
"Amazing and cool!" Leni, aged 7
"Daddy, what are these scary pictures?" anonymous, aged 4
Here's a short article about the two "Make A Mad, Mad Monster' events -
http://www.trinitytheatre.net/Blog/34882-/In-Stitches-Childrens-Author-Guy-Bass-Reads-His-Stitch-Head-Stories-in-Our-Gallery